This post was updated on Nov 29, 2022
The end of a marriage is considered to be a traumatic event, and rightfully so. Marital separation tends to cause a whole array of issues and provoke a myriad of negative emotions. Even if your relationship was far from satisfactory, you may still feel lost, disoriented, and sense a general lack of purpose. This is why so many people dealing with divorce guilt, resentment, anxiety, and sadness seek professional help.
In this article, you'll learn more about depression after a marital breakup and how to cope with it in a healthy way. Although it might seem like a phase in your newly single life, you may want to be prepared and know what to expect from this part of your divorce journey, so keep reading.
Does Divorce Lead To Depression?
Although you may expect to feel better after leaving a dysfunctional or toxic relationship, this is usually followed by feelings of sadness and anxiety. Keep in mind that divorce is usually considered to be a traumatic event, at least for one or both parties in a marriage.
On a conscious level, you may be aware of all the difficult aspects of your relationship and expect to feel relieved that it's over. On a deeper level, you could come to realize that you have also lost something in the process and that you're struggling to accept it. You may start to miss the feeling of certainty or recall times when you and your spouse were affectionate and in love with each other. You may just be confused and anxious about your newly-found independence. You may start to feel guilty for not putting enough effort into fixing your disagreements and saving your marriage.
You might be on the curb of post-divorce depression if the following applies to you:
You blame yourself for most of the issues in your marriage
You feel like you didn't deserve any better
You feel guilty for your children witnessing your arguments with your ex
You feel disoriented and don't feel like yourself
You are reluctant to enter a new committed relationship
You start to miss your ex and feel desperate to get back together
You have trouble falling asleep or waking up too early
You bury yourself in other responsibilities, such as your job, daily errands, and chores, to numb the pain or just keep your mind busy
You can't find any pleasure in activities you used to enjoy
You can't seem to find the strength to forgive yourself and your ex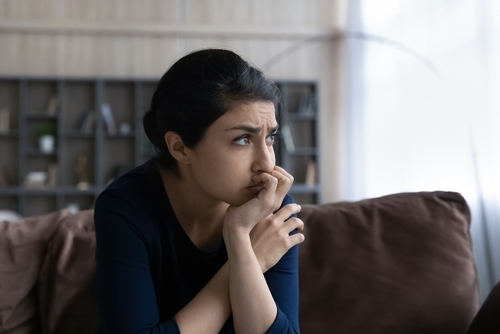 How Long Does Grief Last After A Divorce?
There is no general rule that states how long the grieving process may last. For some, it only takes a couple of months, while others it can last years. The good news is, you can do something during this time to make it worthwhile. Finding a way to creatively occupy your mind and time is probably the best way to navigate feelings of helplessness and despair.
For instance, you can devote time to a specific project, take up a hobby, or try to learn a completely new skill. This way, you'll be able to get a better understanding and control of your time.
How Do I Get Over My Sadness Of Divorce?
Feeling sad may be normal if your divorce happened suddenly. Your spouse just decided to leave you without giving you the chance to work on your marriage. That situation feels like a shock: you lost an important connection, someone you trusted and counted on in good and bad times, without even anticipating that they are planning to leave.
However, it can be much more challenging to get over the sadness and avoid post-divorce depression if your relationship was complex. If there was a lot of frustration and arguing in the process, if you repeatedly tried to recuperate your relationship to no avail, or you felt personally responsible for the outcome, you may need something more than your own self-reliance. Unfortunately, many people try to numb the pain through substance abuse, excitement chasing, casual sex, and other activities that potentially result in self-harm.
Fortunately, there are effective ways to deal with frustration, sadness, and depression and keep you on the road to healing and recovery:
Pursue Meaning
Rather than looking for ways to numb the pain, your main goal could be to find meaning in the things you do daily. Your emotions are meaningful. Being sad makes perfect sense. You need to adapt to sudden changes in your life and dealing with all these emotions is a part of that. If your emotions are messy, they are probably supposed to be, and you'll gather the strength to fix them in time.
Keep Your Daily Routine
Daily rituals are important to keep you going. If you can, get rid of distractions and reduce your screen time and presence on social media. Try to make a conscious effort to have regular meals, exercise, and get enough sleep. If you have kids, make sure to spend enough time with them.
Remember Yourself
You are going through a stressful time and you may feel tempted to deal with it by completely devoting yourself to work, household chores, or parenting. It's important to have enough you-time, as well. You could use it to meditate, practice mindfulness, listen to your record collection, or enjoy some time in nature. If you feel sad, let go of your inhibitions and accept your grief. Keep a diary, so that you'd be aware of your progress.
Practice Acceptance And Forgiveness
If you harbor anger and resentment that keep you in the cycle of depression, the key is to take things one step at a time. Forgiving your ex and yourself for your failed marriage may be easier said than done, so try to accept your marriage is over, that things have changed and that more changes are to come. If you were able to split amicably and forgive each other, you might even remain friends.
Seek Support
In order to avoid feeling overwhelmed and helpless, it's important to have a helping hand. Whether you'll seek support from your friends, family members, or a professional, you may need to accept that this is necessary. It's the first step to getting back on your feet after a complicated divorce.
Reinvent Joy
You may be tempted to put on a happy face and pretend that everything is fine. While you may feel like your capacity for joy was completely depleted after your split, you could try to approach the world with fresh eyes. You could try to approach everyday communication and activities from a completely different mindset. Getting in touch with your inner child could be helpful to overcoming post-divorce depression and starting completely anew.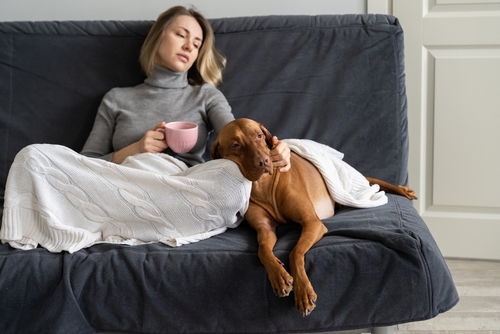 How Long Does It Take To Feel Normal After Divorce?
It depends. While some people are able to divorce on amicable grounds and even stay friends after their split, post-divorce depression can take a long time to heal. Feelings of resentment, anger, and shock are all parts of the normal grieving process. You'd need to go through different stages until you reach a level of acceptance. You are no longer together and it's OK; you can go on and take care of yourself, focus on your needs, and make the best of your time.
Where Can Divorcees Find Professionally-Guided Emotional Support?
If you want to PIVOT from your old ways and overcome divorce depression, you can consider talking to our relationship coaches. Our professionally-guided coaching options for individuals are designed to help you go through different emotional stages of separation, and equip you with ways to cope with everyday struggles.
You can learn more about your attachment style and whether it changed after your breakup, see how to work on your second marriage, and establish healthy boundaries. Couples also have a distraction-free opportunity to discuss their codependency or intimacy issues in our Glass House retreat. Reach out to us today to find out how we can help you.